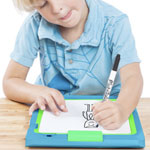 Nashville, TN – Griffin Technology Inc., maker of innovations for everyday life, today introduced LightBoard, a unique and interactive children's experience for iPad. The combination case and app creates a kid-safe arts activity center while simultaneously protecting the parent's iPad.
"LightBoard uses technology to help children connect with their inner artist," said Mark McGlon, Creative Director at Griffin. "Parents can enjoy watching their kids develop artistically, and rest easy knowing their iPad is safe."
LightBoard is a protective case and art table in one. Your iPad is surrounded in a shatter-resistant polycarbonate shell with openings for the speakers and headphone jack. A built-in polycarbonate screen shield protects your Multi-Touch display against scratches and impacts from even the most ardent artists. A clipboard frame holds a piece of drawing paper firmly in place.
The LightBoard case is custom-built to work with the included LightBoard Trace app, a free download from the App Store. With the app, your iPad serves up more than 35 different coloring activities and figures for your child. Slide a piece of paper in LightBoard's clipboard frame, launch the app, and the paper is backlit with traceable drawings.
With Griffin's LightBoard case, you can feel safer about letting your child play with your iPad. And you'll probably score some cool art for your cubicle or refrigerator along the way.