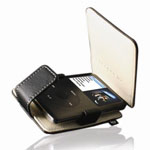 Apple launches the iPad and to help you keep it in brand new form for years to come and to protect it from scratches and knocks take a look at the latest range of specially designed cases from Proporta.
The Smart Recycled Leather Case – £34.95
Handmade from 100% Recycled Leather with a natural hessian lining. This eco friendly case doubles up as a stand so you can view your iPad in portrait and landscape mode.
The Mizu Shell (Apple iPad) – £39.95
Made from a mixture of crystal and silicone, this case fits like a glove, and provides the flexibility of a soft case with the toughness and strength of a hard case.
The Leather Style Pouch (Apple iPad) £29.95 – features a sheet of lightweight, aircraft grade aluminium built in to protect against crushing and impact damage, and offers truly unbeatable protection from even the nastiest of surprises, whilst the Maya II Pouch (Apple iPad) – £19.95 is a beautifully handcrafted pouch with a super soft, scratch free lining, and is available in a range of funky colour options.
[phpbay]apple ipad, 1[/phpbay]
There's a whole range of other custom made options to check out – from the Tilt Stand (Apple iPad) – £39.95 that folds out into a portable stand, the luxurious Leather Case and Leather Style Case, and the Profile Hard Shell (Apple iPad) – £26.95 that is made from a thin, yet durable polycarbonate and wrapped in a stylishly designed leather coating.
And last but not least, there's Proporta's superb Advanced Screen Protector (Apple iPad). These are made from ultra high clarity plastic, offer superb protection, are easy to clean, and even come with a handy application kit. And let's face it, taking care of your screen is pretty important when it comes to the iPad.
So if you want to look after your iPad, you really don't need to look any further. Proporta has more choice than you could possibly need, and as well as keeping everything safe and sound, all these cases will make sure you're as stylish as can be into the bargain. Why not have a browse?