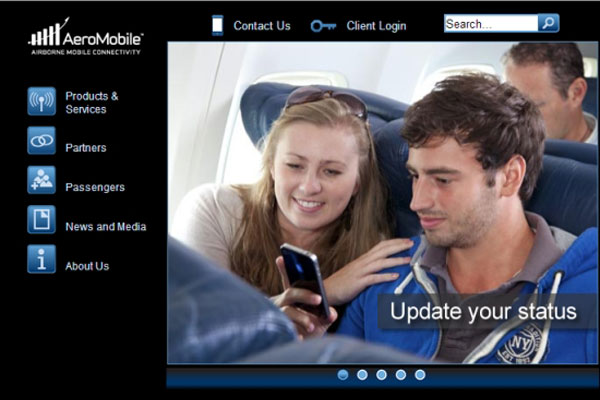 Leading inflight mobile phone operator AeroMobile welcomes the U.S. Federal Communications Commission (FCC)'s move to adopt regulations to permit the use of mobile devices in U.S. airspace.
Speaking in response to the announced agenda for the upcoming FCC meeting, AeroMobile CEO Kevin Rogers said that initiating a proceeding on inflight mobile connectivity was a step in the right direction, with benefits for both airlines and domestic and international travellers.
"We are in an era where being connected is expected and most airline passengers travel with a smartphone. Enabling mobile connectivity will enhance consumer choice and complement other inflight connectivity options available today," said Rogers.
"The AeroMobile service operates almost seamlessly across the world, with the notable exception of the United States. We have many connected flights flying to and from the U.S. every day, and being able to offer connectivity in U.S. airspace will make a huge difference to the passenger experience," continued Rogers.
AeroMobile's inflight mobile service is active on more than 170 aircraft across nine airlines including Emirates, Etihad, SAS, Lufthansa, Aer Lingus and Virgin Atlantic.
All Virgin Atlantic flights between the United States and London Gatwick offer the AeroMobile service, as do all of Aer Lingus' transatlantic flights from Ireland. Emirates, Etihad and Lufthansa all provide AeroMobile connectivity on selected routes into the U.S., with further roll-out planned over the coming months.
"The Notice of Proposed Rule Making is also great news for our current airline partners. As well as offering an improved service, extending coverage to the United States means increased ancillary revenues for those airlines that offer mobile connectivity," said Rogers.
"And it's good news for U.S. airlines, potentially enabling them to provide the same levels of onboard connectivity as their international competitors."
"We are seeing increasing demand for our services as more and more airlines and passengers realise the benefits of inflight mobile connectivity. The ease of using your mobile phone inflight makes it perfect for checking voicemail, sending SMS messages, checking emails or updating your social media status," continued Rogers.
"In fact, SMS is the most popular service on the AeroMobile network; 60 per cent of connected passengers use the inflight mobile network to send text messages. We've also seen data usage shoot up by more than 200 per cent this year," added Rogers.
AeroMobile has over 240 agreements with mobile phone operators around the world including AT&T and T Mobile in the United States, meaning its inflight network is already accessible to U.S. travellers on international airlines.