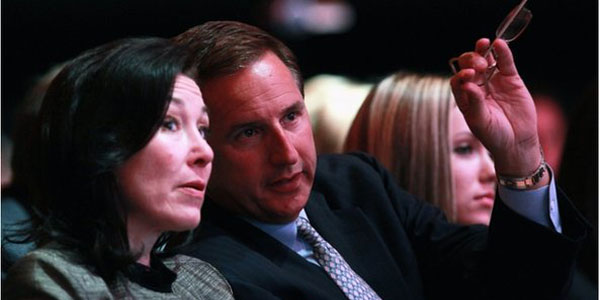 Oracle boss Larry Ellison is stepping aside as chief executive after 37 years at the helm of the software giant.
Mr Ellison, estimated to be the world's fifth wealthiest man, becomes chairman and chief technology officer, remaining an influential presence at the company.
Mark Hurd and Safra Catz have been named as successors, and become co-chief executives.
Mr Ellison, 70, co-founded what would become Oracle with Bob Miner and Ed Oates in 1977.
In a statement, Oracle board president Michael Boskin said: "Larry has made it very clear that he wants to keep working full time and focus his energy on product engineering, technology development and strategy.
"Safra and Mark are exceptional executives who have repeatedly demonstrated their ability to lead, manage and grow the company. The directors are thrilled that the best senior executive team in the industry will continue to move the company forward into a bright future."
Ms Catz will run the manufacturing, legal and finance operations at Oracle, while Mr Hurd will be in charge of the sales, service and business units.
The software and hardware engineering teams will continue to report to Mr Ellison.
Fortune
"The three of us have been working well together for the last several years, and we plan to continue working together for the foreseeable future," said Mr Ellison.
The shake-up comes at a critical time for Oracle, which is trying to adapt to technological upheaval in the business software market.