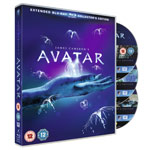 Tired of hearing the same old sat nav voice? You've now arrived at your "tìkan" (destination). In celebration of the release of AVATAR Extended Collector's Edition on Blu-ray and DVD this week you can now customize your Garmin nüvi with Na'vi voice directions. Due to growing demand from the public, Garmin has released customized directions in the native language of Avatar's Na'vis, which are downloadable on the Garmin website. (garmin.com/uk/extras/avatar/)
The ultimate Avatar fan can now get full driving instructions – mìn ftär (turn left), mìn skien (turn right) and txìng musìna tsengit (exit roundabout) for example, making getting to your destination all that much more exciting for Avatar fans here in the U.K.
Taronyu aka Richard Littauer, the U.K's number 1 Avatar fan, who also created a Na'Vi dictionary has been working with Garmin to record the vocal cues and directions in Na'Vi for customers to download.
Example of well know sat nav directions in Na'Vi;
*"Ftexy 'awve tihum, min ftar ro musina tsengit mi zam ayvenu pate ro tikan"
o"Take 1st exit, turn left at roundabout. In 100 feet arrive at destination"
*"fpxäkìm musìna tsengit tsar ftxey muve tìhum. Seralew tìkan mi hìma fya'o.
o"Enter roundabout then take second exit. Continue on route and arrive at destination in ¾ of a mile"
*"fongueo. mìn lahea fya'o"
o"Traffic ahead. Make a u-turn"
*Mi apxa 'it fya'oä mìn skien
o"In half a mile turn right"
Anthony Chmarny, Garmin's Head of Communications said, " The Na'Vi voice is a bit of fun to help celebrate the release of the Extended Collector's Edition of AVATAR. It's great and I'm sure it will bring a smile to your face when trying to get from 'A to B' whilst using your Garmin nüvi sat nav."
The three-disc AVATAR Extended Collector's Edition Blu-ray and AVATAR Collector's Edition DVD were released on Monday and both feature the original theatrical release, a special edition re-release, and new collector's extended cut with over 15 more minutes including an exclusive alternate opening earth scene. Viewers will have the ability to journey to the far-reaches of Pandora with "Capturing Avatar" an in-depth feature length documentary covering the 16-year filmmaker journey that includes all new interviews with James Cameron, Jon Landau and cast and crew exploring Cameron's unique vision for the film now seen by more than 310 million people worldwide. The Oscar and Golden Globe winning epic is the highest grossing film of all time, taking in over $2.7 billion in worldwide box office. It is also the top-selling Blu-ray disc of all time. For the ultimate fan, the UK is also releasing a limited run of an Exclusive Collector's Edition Blu-ray Boxset with only 1000 copies available.