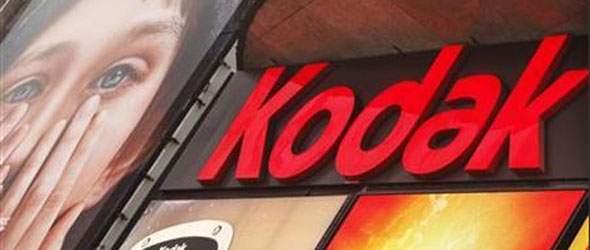 Eastman Kodak Co, the photography icon that invented the hand-held camera, has filed for bankruptcy protection and plans to shrink significantly after a prolonged plunge for one of America's best-known companies.
The Chapter 11 filing may give Kodak, which traces its roots to 1880, the ability to find buyers for some of its 1,100 digital patents, a major portion of its value.
Kodak once dominated its industry, and its film was the subject of a popular 1973 song, "Kodachrome," by Paul Simon.
But it failed to embrace more modern technologies quickly enough, such as the digital camera — ironically, a product it invented. Kodak now employs 17,000 people, down from 63,900 just nine years ago.
"It is a very sad day even though we had anticipated it happening," said Shannon Cross, an analyst at Cross Research who has had a "sell" rating on the company since 2001. "If it emerges, it will be a much smaller entity."
According to papers filed with the U.S. bankruptcy court in Manhattan, Kodak had about $5.1 billion of assets and $6.75 billion of liabilities at the end of September.
In court documents, Chief Financial Officer Antoinette McCorvey said, without elaborating, that Kodak plans to sell "significant assets" during the bankruptcy. Non-U.S. units are not part of the Chapter 11 case.
Kodak also obtained a $950 million, 18-month credit line from Citigroup so it can keep operating during the bankruptcy process, which it expects to complete in 2013.
"This is a necessary step and the right thing to do for the future of Kodak," Chairman and Chief Executive Antonio Perez said in a statement on Thursday.
Kodak's market value has sunk to below $150 million from $31 billion 15 years ago. Its shares began trading on Thursday on the Pink Sheets. In early afternoon trading, they were flat 36 cents.